[et_pb_section fb_built="1″ admin_label="section" _builder_version="3.0.47″][et_pb_row admin_label="row" _builder_version="3.0.48″ background_size="initial" background_position="top_left" background_repeat="repeat"][et_pb_column type="4_4″ _builder_version="3.0.47″ parallax="off" parallax_method="on"][et_pb_text admin_label="Text" _builder_version="3.0.74″ background_size="initial" background_position="top_left" background_repeat="repeat"]
---
An Architect's Guide To: Solid Surfaces
In just over 50 years, solid surfacing has taken off as a remarkably popular and enduring building material for both interior and exterior applications. In the past, solid surfaces have been most frequently used to create beautifully seamless countertop installations; more recently, however, architects have also perfected their usage across large-scale and completely unexpected façades, making them both a fascinating and temporal material for experimentation and study.
One thing to remember is that solid surfaces are neither easy to manufacturer nor install. Therefore, it is very important to work with an authorized retailer from the outset of the design process, and insist upon a trained fabricator and installer on site.
CONTACT US FOR A LIST OF AUTHORISED FABRICATORS IN YOUR AREA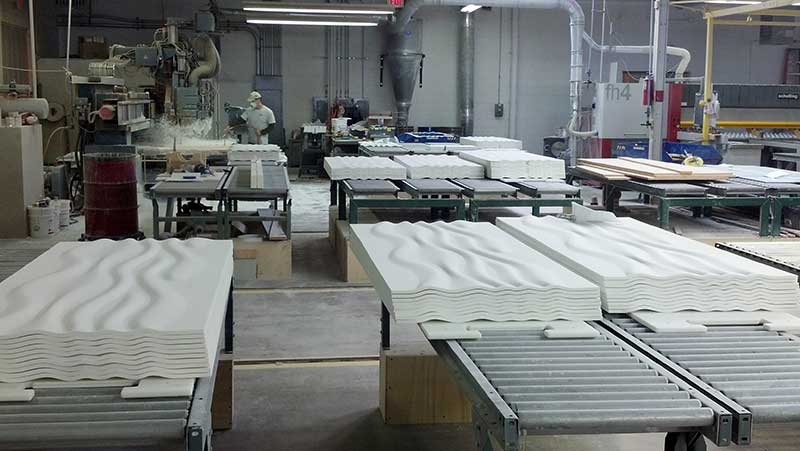 Materials
What exactly constitutes this supremely versatile material? A solid surface is a human-made composite that is approximately one-third binding resins and a remaining two-thirds minerals. For reference, a typical precious stone countertop is only about 10% resins, which means that the mineral portions — marble, granite or otherwise — are more visible and easily decipherable. Solid surfaces, on the other hand, often take on a more visually consistent appearance.
Most solid surfaces are a combination of Alumina Trihydrate (ATH), acrylic, resins and pigments. The secret sauce — ATH — is a very fine white powder that helps maintain the surface's smooth consistency. Two common types of solid surface systems are polyester-based and acrylic-based; the main differentiation lies in their resins.
Polyester-Based: Today, polyester-based solid surfaces are going largely out of fashion to their acrylic-based counterparts. Polyester is more brittle than acrylic, which means that there is a higher likelihood of breakage during transportation and fabrication. However, there are advantages to polyester-based solid surfaces. Not only are they cheaper, but they are also easier to impart with dramatic vibrant colours and high-gloss finishes. Depending on your aesthetic preferences, polyester could be the right choice for your project.
Acrylic-Based: Today, acrylic-based solid surfaces are monopolizing the market, with a strong hold on approximately 80% of all products. Reflecting this shift, brands like Salvocorp's Staron Solid Surfaces are now 100% acrylic while others are currently in transition. Acrylic-based solid surfaces are stronger than polyester, and therefore make it easier for manufacturers to deliver a damage-free product to site. Aesthetically, acrylic surfaces look best when they are finished with a lower-gloss than polyester, which may be desirable depending on the context of your project. Finally, acrylic is the best choice if you are planning on pursuing fancy fabrication work such as thermoforming; acrylic solid surfaces can bend at more dramatic and fluid shapes than polyester.
---
Aesthetics
One of the most sought after qualities of solid surfacing is its aesthetic flexibility and formability. The design iterations of solid surfacing are virtually endless. Typically manufactured in sheet form, solid surfaces can be cast into an endless variety of shapes, exemplified by the material's usage across exterior cladding, wall panels, countertops, sinks and even sculptural art.
Thermoforming
Thermoforming is an increasingly popular way of creating 3-D and rounded shapes with solid surface materials. The process involves heating the composite material in an oven until it becomes flexible and malleable. When heated to the appropriate temperature, acrylic material is far more flexible to work with than polyester. It is important to acknowledge that thermoforming may cause certain alterations to the material; for example, when heated the material may shrink or darken in colour. Talk to your fabricator early on about the geometric and aesthetic qualities that you hope to achieve with your final project.
Colour
Colour flexibility is a key reason for choosing engineered composites over natural stone as it can multiply your design possibilities. One important thing to note is that rather than being coated in a colour, the colour pigment goes all the way through the surface. This means that there is homogeneity throughout the material and very little opportunity for colour chipping or visible imperfections.
DISCOVER STARON'S RANGE OF COLOURS TODAY
Pattern
Solid surfaces are not only available in solid hues, but also sweeping veining patterns. Top surface manufacturers are fabricating varying degrees of translucency as well as patterns inspired by quartz and other precious stones for an upscale look.
Finishes
Solid surface products are available in a variety of finishes, ranging from matte to high-gloss. Most manufacturers recommend a matte or satin finish for simple maintenance.
Engraving and Perforation
During the production process, solid surfacing can be cut to create intricate designs. Many architects are harnessing this quality to create uniquely engraved and perforated building envelopes.
---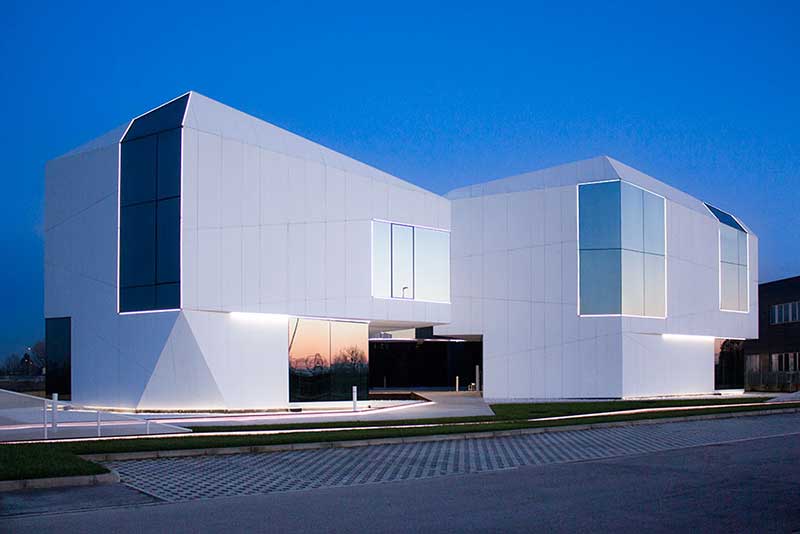 Performance
Compared to its material competitors such as wood, tile and laminate, solid surfacing is easier to clean, maintain and roll out in very large formats.
Environmental Considerations
Today, many solid surfaces contain recycled content, meaning that they can be serve as a sustainable material choice for your project. Typically, these products are made from both reclaimed solid surfacing and various types of post-industrial waste. In addition, many of today's leading edge products are manufactured to be 100% recyclable and can be repurposed at the end of their lifecycle.
FIND YOUR NEW COLOUR FROM STARON'S RECYLCED CONTENT SERIES
Porosity
In researching solid-surfaces, one term that you will come across time and time again is "non-porous". While no surface is ever completely non-porous, solid surfaces are just about as close as it gets, which renders an impermeable shield that greatly promotes durability.
Durability
With a non-porous surface, solid surfaces are intrinsically resistant to bacteria, fungal growth and staining — issues that are common among wood and stone especially. These qualities make solid surfacing an apt choice in healthcare and hospitality environments, and any other setting with highly specific hygiene codes. When it comes to the durability performance of solid surfacing, we will continue to see innovations like this in building-product design.
Maintenance
The non-porosity of solid surfaces also gives way to simple reparations when any scuffing does occur. Easy to fix, imperfections can usually be sanded off or re-polished by a solid surface repair company or trained fabricator.
---
Salvocorp's Staron Solid Sufaces ticks all these boxes, and more, making it an ideal product to incorporate in a client project. From incredible versatility with thermoforming, an impressively wide range of colours, and excellent durability, to an extremely low maintenance level, superior hygiene and more, Staron is without a doubt the leading solid surface to trust.
---
[/et_pb_text][/et_pb_column][/et_pb_row][/et_pb_section]