STARON INTERIOR
The healthiest choice for your design.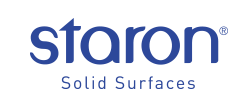 Premium solid surface choices by LOTTE Advanced Materials reflect the finest contemporary design trends.
Staron solid surfaces and Radianz quartz by LOTTE Advanced Materials unleash creativity and allow your design vision to flourish.
We are quickly becoming a leader in the premium surface materials market. As we grow, we offer greater choices and possibilities to our customers as they bring their dreams to life.
LOTTE Advanced Materials, a chemical corporation of Global LOTTE, is a leading company in Asia and around the globe. We strive to create high-quality products that our customers admire and trust, and we respond quickly to market demands with premium, high-performance decorative surfaces. As a result, professional architects, designers and fabricators have come to appreciate our flexibility, responsiveness and creativity as we help them convert ideas into real-life applications.
VALUE

+ 

YOUR IMAGINATION
We provide value to turn your imagination into reality
Design Flexibility
– Can be thermoformed to created rounded shapes,
curved walls, table supports and 
even rounded columns. 
– Can be cut with CNC machine to create precise 
3D images that are revealed when backlit 
for stunning displays, signage and interior walls.
Outstanding Product Quality
– Can be processed in 3D with more accuracy 
– Resistant to scratches and impact 
– Smooth, seamless workability
– Available in more than 100 colors and patterns
– Designed with the assistance of color trend professionals
Reliable Management
– Professional product management
– The assurance of a 10-year warranty
– Dependable, high-quality product, 
certified for sustainable building practices, 
health care, food service and more.
Global Network
– Offices (six) in each continent with approximately 
180 distribution locations 
– Cooperation with business partners 
throughout the world
Great Sanitation
– Easy maintenance
– Non-porous material won't allow 
molds and germs to penetrate
– Resistant to chemical cleansers, 
sanitizers and disinfectants
Staron solid surface and Radianz natural quartz can transform interior spaces. 

With their wide range of color and pattern options, designers can find the ideal complement to any design aesthetic.
Staron and Radianz by LOTTE Advanced Materials are advanced, high-quality building materials. Whether you choose solid surface or natural quartz, our products provide a wide range of options, all made to the highest quality standards. Materials that go beyond the standard, traditional surface, their workability also makes them ideal choices for kitchen furniture, interior wall cladding, and a variety of bathroom applications, as well as endless commercial design applications. Staron and Radianz are hygienic materials that meet the specifications of sustainable building programs as well as the health and safety requirements associated with health-care and restaurant design. Both product lines are ISO, NSF, and SCS certified.
WHY STARON?
Staron, The Premium Solid Surface
Staron allows nearly any design idea to flourish. Available in more than 100 colors and patterns, Staron can be
easily fabricated to create nearly any shape or inset and can be thermoformed into flowing curves. Seams are glued and buffed for absolutely seamless walls, columns, display fixtures and other designs.
And because Staron is nonporous, it is certified for use in applications that natural stone is not, such as health care and food service.
Designers and decorators are especially impressed with Staron's Tempest colors and the natural patterns of its Supreme collection.
Tempest, The Brilliant Solid Surface
Tempest combines the elegant patterns of natural elements with the durability and workability of solid surface. These color choices have a degree of translucency that exhibits diamond-like particulate and the brilliance of precious metals. The splendor of dazzling, reflected light create a true elegance in any space.
Supreme Collection, A Showcase Of Natural Patterns
The Staron Supreme collection contains trending colors that flow in natural rhythmic patterns. Inspired by nature with a contemporary design aesthetic in mind, Supreme collection colors help create an impressive interior environment.
STARON VIDEO
Make an impression with a new standard of design
ECO-FRIENDLY
LOTTE Advanced Materials pursues sustainable growth through eco-friendly technology
LOTTE Advanced Materials opens up a new future with great competitive products and eco-friendly
technology. Staron is trying its best to practice eco-friendly management with its excellent,
environmentally sustainable, technologies and to share sustainablilty values in both the workplace and home.
Eco-friendly management
LOTTE Advanced Materials creates and keeps strict standards within the company in order to minimize negative environmental effects that might be caused during the production process. The company is trying its best to manage the emit of greenhouse gases through 'Integrated Energy and Greenhouse Gas Management System' which was established in 2011 to primitively control greenhouse gases for nature, and Energy Management System (ISO 50001), of which the title that the company won for the first time among all the other companies in the same field, and also, by getting the global certifications of Environmental Management System (ISO 14001) and Safety and Health management system ( ISO 18001), which it still maintains.
LOTTE Advanced Materials monitors through an auto measuring equipment on the outlet of pollutants, and observes through their own measurement and analysis system through their own organization that only covers the environment field.
Wastewater management
The company runs a waste water disposal plant or entrusts the management to a specialized company for legal treatment.
For emergencies
The company has installed surveillance cameras on dewatering outlets and discharge sites of the general drains, and runs drainage interceptors and recovery facilities.
Dust Management
The company receives basic emission tax exemption by maintaining the emission concentration to be less than 30%, which is legal emission concentration rate.
Industrial waste management
The company separates and stores the waste according to the standards of waste control act, and is treating them legally.
Staron's certified eco-friendliness
Staron the technology leader of LOTTE Advanced Materials is a recycled product reducing the industrial waste and the energy consumption during the production process. All the colors of Staron are safe to children and elderly and certified eco-friendly materials from 'GREENGUARD' and 'GRANDGUARD GOLD', so they are widely used in hospitals and education buildings, where the hygiene matters most. SCS (Scientific Certification System) certification from 'LEED', which is one of the most popular green building certification programs in the U.S.,proves that Staron is such an eco-friendly material that applies recycled products and energy saving resources. Along with world's interest and trend toward eco-friendly buildings, Staron will keep working on maintaining its quality.
All the colors of Staron: Completed certifying
Eco-friendly products containing recycled raw materials
STARON COLORS & GALLERY
Fabrication Manual
Staron is a non-porous solid surface material with homogenous composition. It boasts smooth, seamless workability and is extremely low maintenance. Following installation procedures here will allow you to accentuate Staron's natural colors, patterns and textures.