STARON
The healthiest choice for your design.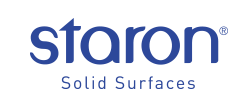 STARON
evermoin® anti-microbial surfaces from Staron® can be applied to almost any interior space within a healthcare facility. Imagine casework, work-stations and wall-cladding in a functional and renewable material that is durable as well as ultra-hygienic. Achieve the perfect blend of simplicity in design in an anti-microbial surface engineered for a healthier life
Inspirational Gallery
VERSATILITY & VISION
BACKED BY GLOBAL BRAND, LOTTE
LOTTE Advanced Materials, a chemical corporation of Global LOTTE is one of the leading companies in Asia that contributes the mankind to have a better life by producing widelyloved and trusted products and services.
LOTTE Advanced Materials, creating highly regarded products than our customers' ever wanted, responds to the rapid change of the market with the premium interior construction materials, solid surface and natural quartz, with much flexibility and creativity along with many professionals in various fields,
and tries its best to upgrade our customers' spaces.
Colours
TO SUIT YOUR VISION
➲ Countertops
➲ Vanity tops
➲ Sinks and bowls
➲ Baths
➲ Public restrooms
➲ Contract furniture / Conference tables
➲ Reception desks
➲ Food and beverage counters
➲ Transaction counters
➲ Display and fixtures
➲ Window sills / Wall caps
➲ Fashion stores
➲ Hospital
➲ Restaurants
➲ Hotel
➲ Reception hall
Environmentally Sustainable

HIGH-QUALITY SURFACE FINISHINGS USING ECO-FRIENDLY TECHNOLOGIES
Staron® have earned GREENGUARD® and GREENGUARD® Children & Schools certifications as low-emitting interior building products. Staron® recycled series products are manufactured using pre-consumer recycled content and certified by Scientific Certification Systems (SCS) that can contribute to LEED® MR Credits 4.1 and 4.2 for recycled content, resulting in a reduction of industrial waste and energy consumption utilized during the manufacturing process.
Using recycled content helps conserve energy and resources, alleviates pressure on landfill space and reduces the need for transportation during certain phases of a product's life cycle.